Sunset over Castle Hill - South Island, New Zealand
Wednesday 06 Nov 2013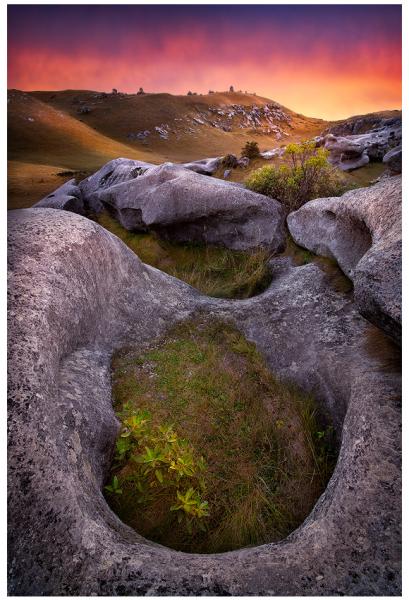 One of the locations I just had to check out on my recent trip to the South Island of New Zealand was Castle Hill. I had seen a few snapshots of the boulder fields in the area and thought it just looked like one big playground. I purposely didn't delve any further into researching the location or any other images from the area as I didn't want to have my own experience influenced by other photographers or travellers. I like to have this approach to visiting and shooting a new location as often as I can.
I arrived at the hill car-park a good 4 hours before sunset to ensure I had plenty of time to walk around the area, scouting compositions and getting a feel for the place. I always try to have a couple of "go-to" compositions scouted out as quickly as I can when at a new location so that I can spend the remaining time until magic hour relaxing and truly taking everything in. After spending the first couple of hours looking through the viewfinder trying to frame an image that "worked" or at least appealed to me I settled on this composition along with a couple of others as my "go-to's".
Now that the hard work was out of the way it was time to commence my favourite part and what I consider the most important part of landscape photography..... The sitting back and completely absorbing my surroundings.
This particular afternoon was magic and extremely surreal. The bizarre landscape, the complete stillness at ground level and deafening silence along with it, the golden light sweeping across the hills and the constantly changing cloud formations. It all made for an otherworldly experience. It wasn't until after visiting the area that I read that the Dalai Lama labelled Castle Hill as "the spiritual centre of the universe" upon his visit in 2002. If any man can make such a comment it's the spiritual leader himself.
Comments: