Moeraki Boulders - Jurassic Coast
Saturday 01 Jun 2013
I have now returned from an amazing two week photography trip on the South Island of New Zealand. I arrived in Christchurch mid afternoon after flying from Perth via a short stop in Melbourne. Once I picked up my Britz Campervan (my home for the duration) and bought some supplies, I hit the road and headed south to my first destination, Moeraki Boulders.
I arrived at the Moeraki Boulders later that night and got some shuteye after a long day (it happened to be my Birthday, but unfortunately I had spent most of the day travelling). I awoke a couple of hours before first light and immediately knew there were clear skies because it was bloody freezing! I was eager to get out to the location well before sunrise so that I could become familiar with the location, scout possible compositions, and possibly photograph something under the night sky. Once I hit the open shoreline, rugged up, under the stars, with not a breath of wind, it hit me..... I'm in New Zealand! I had a grin from ear to ear.
It wasn't long after getting to the Boulders on the beach and scanning the area with my flashlight that I had found some interesting formations...... Two DINOSAUR EGGS! How the hell is there dinosaur eggs here? If there are eggs then the mother must be around here somewhere? I panicked!
Ok, I lie. I actually realised they were just boulders that resembled dinosaur eggs and was as cool as a cucumber about the whole thing.
The scene of the boulders under the moon and stars was the first composition I decided to settle on. So here it is.. The very first image from the trip.
"Jurassic Coast"
For new image releases, news, and blog updates make sure you subscribe here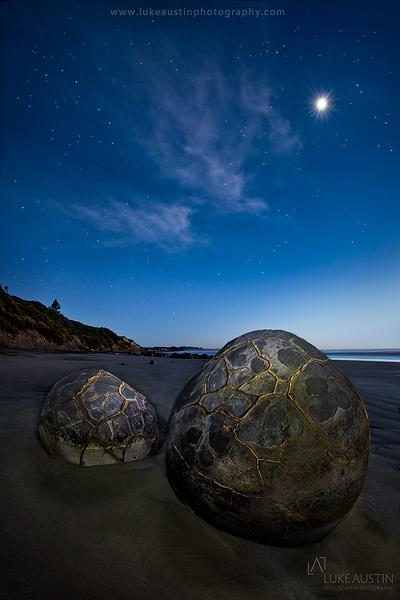 Comments: